Traffic Cake Affiliate Program

Traffic Cake is a CPA network with a wide range of offers. Traffic cake review will provide you with a list of allowed traffic sources, GEO, payouts, useful information about the affiliate program. Before traffic cake work, find out traffic cake review 2022 and opinions about Traffic Cake Affiliate Program.
What is Traffic Cake?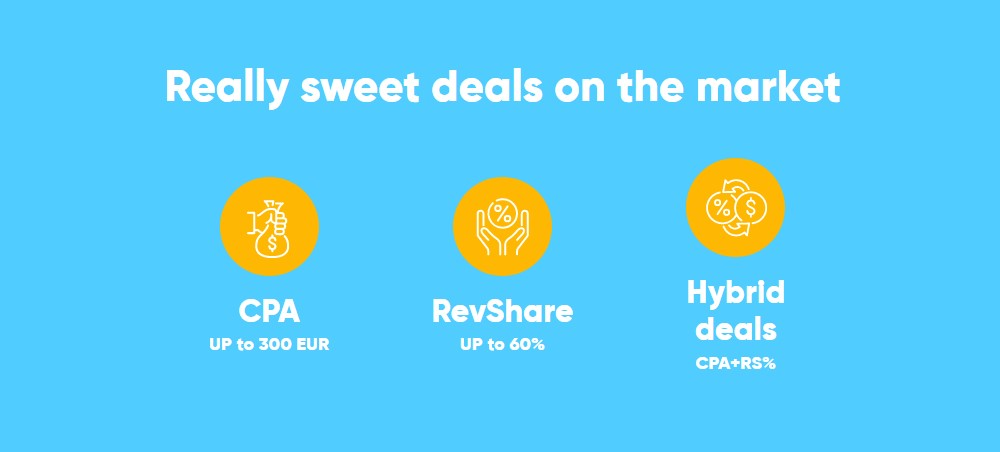 Traffic Cake is an affiliate network specializing in gambling, sport and cybersport betting. It started operating in 2018. At the moment, the affiliate program has casino offers such as "Vulcan Vegas", "Vulkan777", "VulcanBet" and "GGbet". Offers are developed for various GEOs: Russia, CIS, European countries, China and Canada. Traffic Cake takes care of everything: technical SEO, backlinks, digital PR for link building, and content creation to ensure there is quality content worthy of ranking. This makes it much easier for them to make reasonable offers to operators and partners based on their needs, and not just based on what they want to sell, so they can talk with absolute honesty about what works because it doesn't matter to them whether it's external or internal optimization. The scale, multilingualism and comprehensiveness of services make their life easier. It also instills confidence in our customers.
How Traffic Cake works?
Traffic Cake has several payment models. According to RevShare, partners receive from 40 to 60% of the casino income throughout the play of the players referred without time limits.
There is Dynamic Revshare, the payments for which vary depending on key indicators.
According to CPA, a fixed payment of up to 300 euros is expected for the registration of those players who have made a minimum deposit. This payment model is connected after contacting the support service. It is necessary to agree on traffic sources and volumes that the webmaster can generate. The final income will depend on the activity and financial performance of the previously mentioned players.
It should be remembered that the affiliate program does not accept motivated traffic, spam mailings, toolbars and fraud in any of its manifestations are prohibited.
Statistics are updated at intervals from 5 to 50 minutes. It is possible to view statistics remotely in JSON and XML formats without logging in to a partner account, as well as download data. Information is available on dates, projects, campaigns, countries, SUB_IDs and referrals.
The "Promo" section offers, in addition to direct links, about 40 ready-made banners and more than 60 conversion landings. When searching for the right creative, you can filter them by format, language, and tags.
Weekly payments of earned funds in Traffic Cake occur on Mondays. All payments are made in euros, the minimum withdrawal amount is 50 EUR. Money can be received using WebMoney, QIWI, Skrill, Capitalist, Neteller, Tether and Bitcoin.
Additional earnings are offered by a referral program, under the terms of which interest is charged on the income of attracted partners.
How to sign up for Traffic Cake?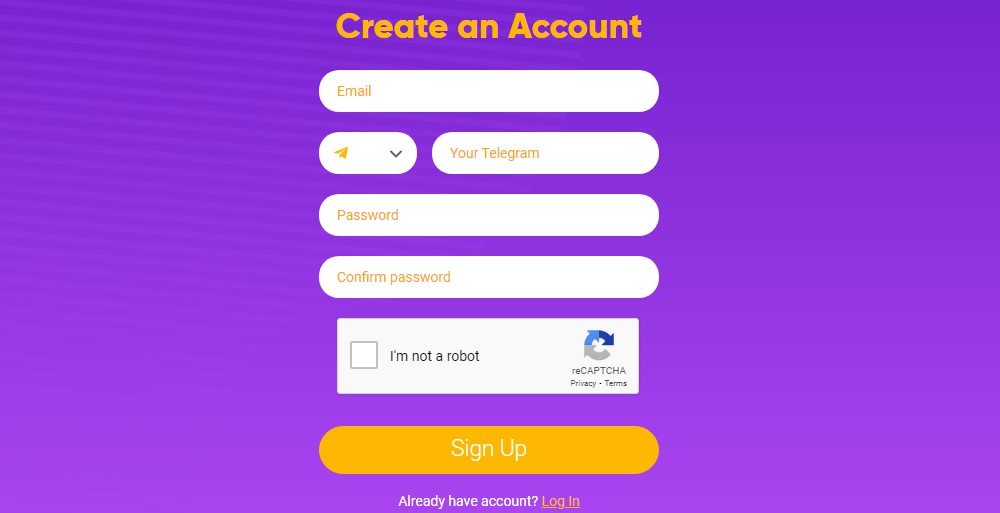 Registration of new webmasters in Traffic Cake is easy. You do not need to approve your account and send confirming screenshots from other networks to join traffic cake. You just need to come up with a username and password, enter the captcha, check the boxes and click Create Account. After confirming the registration by mail, you will be taken to your personal account. On the main page, you can immediately see your balance, as well as the number of unique transitions, registrations and first deposits.
Features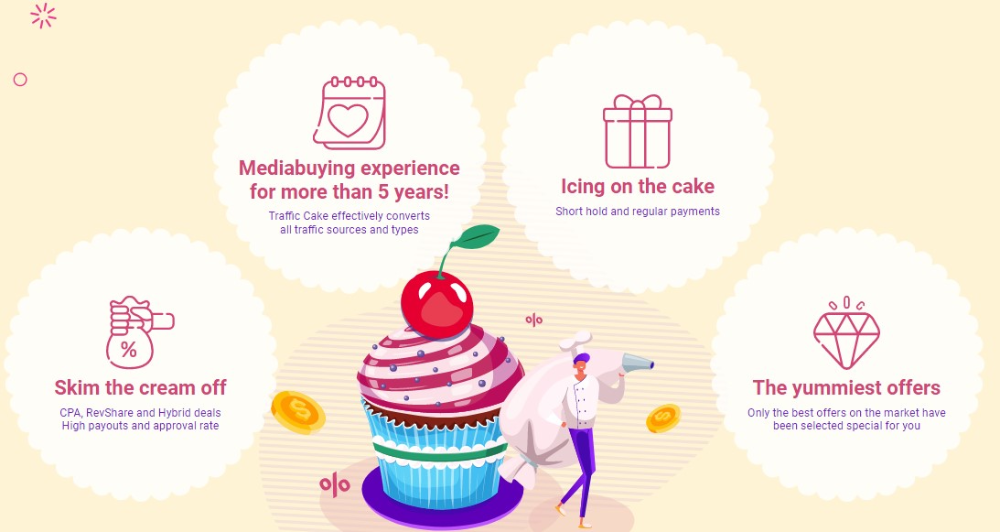 The partner is authorized for five quality projects at once.
Weekly payments.
Complete statistics.
Convert all traffic sources.
Personal assistant with individual terms of service.
Conclusion on TraffiCake
Traffic Cake is a fairly large organization. By entrusting Traffic Cake with a big task, clients know that they will not let them down, and there will be no delays. Traffic Cake can work on a large scale. The second important point is the emphasis on multilingualism in SEO, content, translation, etc. It often happens that you can find a great agency that works great in the UK, but does not have enough skills to work in Germany, Spain or Colombia, Brazil, Canada. And Traffic Cake can offer customers options, which also means more opportunities for them.
They know they can trust them with international, multilingual projects and they only need to work with one agency - Traffic Cake. The third point is the comprehensiveness of our Traffic Cake's services. SEO professionals often specialize in one particular area. There are a lot of good SEO techs out there who understand websites, their indexing, page speed, performance metrics, how Google submits Java and stuff like that.
Sign Up Traffic Cake