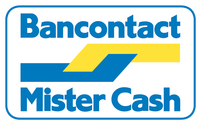 Bancontact Mistercash payment system for online casino
Many online systems for payments work locally, which makes them a perfect choice for online gamblers who live in the same region. The Bancontact Mistercash system is created for use in Belgium. In fact, 75% of Belgians do not use credit cards. The majority of citizens get used to debit systems. About 8 millions of them connected their cards to Mistercash. This card is also very authoritative and popular among gamblers, although for several reasons the number of casinos hosting this system is very small.
Still, there is a number of online casinos that offer the option to use this system as a payment method. Usually, these are websites that offer a wide variety of methods, or local Belgian websites. Anyway, while this card is debit, the use of it quite limited for those online gamblers who get used to credit cards.
How to get a debit card?
To receive a debit card of Bancontact Mistercash for playing in a casino or for any other purposes, the user should have an account in any Belgian bank. This card will have the same set of features and benefits as the Maestro debit card. To receive a personal debit card of this system, the user must be a resident of Belgium. Such a requirement makes the system use very limited. Usually, only residents of Belgium and neighbor countries use the system to provide online payments. Probably because of that, only a small number of online casinos offer the option of making payments with this system.
Additional advantages of Bancontact Mistercash
Debit system offers online casino players a solution that will save users from all the hassles. With this card, users can very quickly send the necessary amount of money to the casino hosting the system's cash. Since you can only spend your money, the system significantly increases the level of responsibility in online gambling. There is only one way to get a small credit to the debit card (about 1000 €). To do this, you need to send an appropriate request through the system and while money is credited, impulsive players can "cool off" and change their minds. This is a huge advantage of the system, as well as all debit cards in general. However, the same thing will be a disadvantage for all players who use credit costs for online casinos.
Disadvantages of the system
Mainly, there are three significant negative features of the system – it is local, it doesn't work with credits, and it requires personal information about the user. However, these disadvantages can be easily turned into advantages. The fact that the system is local, makes it a very attractive payment method for local clients. For example, some of them offer free spins and deposit bonuses for using this system. The fact that it doesn't provide credits, makes its customers more responsible for online gambling. Finally, users have to show their personal information for one reason – this provides bigger security and responsibility of the parties.
Bancontact Mistercash Casino list