Online Casino Trends in 2023
It is very important to study online casino trends of 2023. They will help you to realize what peculiarities of online casino platforms you are going to deal with, and how to benefit from them more. So, let's start then!
The Rise of Live Dealer Games
Live dealer games have grown in popularity because players started to miss real-time interaction when gambling on online casino platforms.
Exploring the Growth of Live Dealer Games and Their Impact on the Online Casino Industry
Player experience in casinos improved greatly as soon as live dealer options were introduced on the platforms. The matter is that the participants of the online gambling sites received the opportunity to communicate with other players via chat interfaces. And sure, the presence of the dealer makes the whole playing look similar to what is going on in the land-based casinos.
As soon as live dealer games are also linked to transparency (gamblers watch the legitimacy of the outcomes in real-time), more people start to turn their attention to this kind of games. Accordingly, the overall interest in online casinos keeps growing.
Virtual Reality (VR) and Online Gambling
Virtual reality gambling refers to a three-dimensional artificial environment that is linked to a rather realistic experience for the players. The number of sites introducing such tech is not great but it is gradually increasing.
How VR Technology is Revolutionizing the Online Gambling Experience for Players
One of the great examples here is the web-based casino named SlotsMillion which was launched in 2014. It is home to more than 3k of slots, and these options are compatible with portable devices. Virtual reality slot games are about the following stuff: you are playing the titles with the app and your gadgets which creates a super realistic atmosphere (plus there is extra interaction). You can even see other players wandering around the casino. There is also augmented reality betting that has to be mentioned. So, it is a completely new level of excitement!
Artificial Intelligence (AI) in Slot Games
AI in slot games is another trend to highlight. This tech helps to increase player interaction and loyalty which is really important.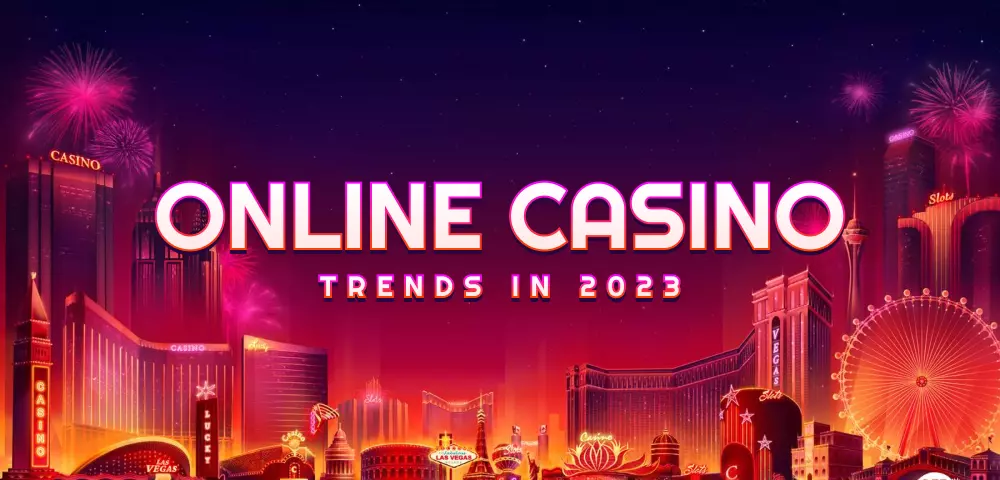 Analyzing the Role of AI in Creating More Interactive and Personalized Slot Games
Here are some of the key points that become possible with the implementation of AI in creating slots:
Adapting the games to players by means of analyzing players' skills, behavior, and needs;
Providing personalized support in connection with introducing chatbots (AI-powered customer support);
Generating realistic game environments;
Designing adaptive and challenging gameplay, etc.
Blockchain Integration for Transparency
Blockchain transparency in casinos is something that is observed in the 2023 gambling industry. Introducing blockchain in online casinos helps to enhance the overall level of security which means a lot for the players.
Examining How Blockchain Technology is Enhancing Transparency and Trustworthiness in Online Casinos
Cryptocurrency casinos provide players with fast and secure payments (this is what crypto is characterized by; the matter is that such type of payment is decentralized). Players can enjoy anonymity when making deposits and withdrawing their cash.
Payments are arranged between smart contracts which really speeds up the process. The participants can see all transactions introduced on the platform which makes fraud and other shady stuff basically impossible.
By the way, there are Blockchain audits for casinos for enhanced control over security.
Mobile Optimization and Responsive Design
Mobile optimization is one of the online casino trends of 2023 that also deserves to be highlighted. Mobile-responsive casino design is something that draws the attention of those who like to gamble on the go.
Discussing the Importance of Mobile-Friendly Platforms and Responsive Design for Online Casinos
People spend more time on their mobile devices so the online casino platforms started to consider their mobile casinos in a more thorough way. Responsive design refers to the correct interface of the site you will come across regardless of the gadget you are using. The mobile-friendly design makes it possible for the players to access their favorite titles, payment options, and so on without any hardships. Mobile casino app development and creating user-friendly casino platforms are also closely tied to optimization.
Innovative Payment Methods
Online gambling innovations in connection with payments mean introducing new options of banking that will be beneficial for players.
Exploring New and Secure Payment Methods, Including Cryptocurrencies, in Online Casinos
Rather new payment methods in casinos are presented by such options as Apple Pay and e-wallets. This helps the participants to make deposits fast, and they do not have to indicate much data to do so. Plus, there are Blockchain casinos that introduce crypto payments that are extremely safe and speedy. You are free to stick to Bitcoin, Litecoin, Ethereum, and other options when dealing with them.
Enhanced User Experience through Gamification
Gamification in gambling is the practice of including game-like elements and mechanisms into the iGaming experience.
How Gamification Strategies are Being Used to Create Engaging and Rewarding Player Experiences
Introducing the gamification trend is going to make the process of playing even more fun than it is now. The players can enjoy such new elements as leaderboards, challenges, levels, achievements, and so on. The players get the opportunity to unlock special rewards, compete with others, etc.
Regulatory Updates and Compliance
Casino industry regulations are crucial as soon as they provide the players with safety and trustworthiness, and these are some of the key aspects the participants are seeking when getting ready to play. It is vital to track regulatory updates on a regular basis.
Staying Informed about Changing Online Gambling Laws and Regulatory Requirements in 2023
You may see compliance with gambling laws, proofs and updates right on the sites of the casino platform or on the resources that are devoted to gambling. One of the most important aspects to highlight is this: online casinos have a duty to promote responsible gambling today. There should be an appropriate section on the site that will guide gamblers in connection with this. Responsible gaming features linked to the behavior include setting limits, self-exclusion, etc. There is also a matter of sustainable gaming initiatives to keep in mind.
A really new trend in gambling behavior is presented by eco-friendly gambling practices (buying digital games, avoiding unnecessary accessories, etc.) and eco-conscious casino operations.
Data Security and Player Privacy
Data security in online casinos means a lot to the participants, and it is one of the other online casino trends to outline.
Ensuring Robust Data Security and Protecting Player Privacy in the Digital Casino Landscape
Data protection in gambling and safeguarding player privacy is achieved by the implementation of SSL casino technology and other types of encryption along with suggesting secure payment options. Apart from this, the players have to go through verification which is important in casino industry sustainability.
Marketing Strategies for Player Acquisition
Marketing tactics for player acquisition are various, and they change all the time. But you need to have a look at them to stay aware.
Leveraging Innovative Marketing Tactics to Attract and Retain Players in a Competitive Market
Marketing strategies for casinos are presented by the following stuff:
Introducing a referral system;
Rewarding players who invite their friends to play on the platform for online casino customer retention;
Using social media marketing for casinos;
Including SEO and ASO sustainable practices in gambling advertising, etc.
Conclusion
As you see, online casino trends in 2023 are pretty vast in number. Keep them in mind, and your gambling experience will get even better!