Daily News: Magic of Sahara is a new slot from Microgaming
General information.
The slot has 5 × 3 reels, 9 paylines and the maximum payout per spin of x2400 of the bet!
Functions and regular game mode.
1. Wild symbol.
Replaces any symbols except for Scatter and Magic coins.
Five Wild symbols award x133 of the bet (approximately) without taking into account the possible multiplier.

2. Stacks of Wild symbols.
In the regular game mode, Wild symbols can fall out in stacks on the 3rd and 4th reels while occupying the whole reel.
In the bonus game mode, Wild symbols can fall out in stacks on any reels.

3. Collecting of magic coins.
When a special symbol appears, the player is awarded Magic coins which are collected.
After that, the special symbol disappears, and any cheap symbol takes this place (9, 10, J, Q, K or A).
Coins that have already been collected are displayed at the top of the slot.
Accumulating of 25 or more coins launches a bonus game without scatter symbols.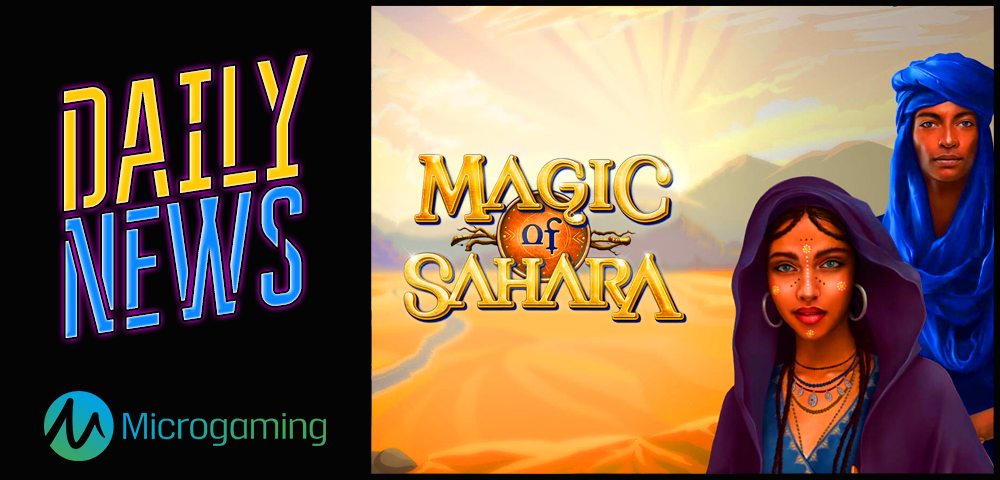 Bonus game mode.
When 3, 4 or 5 symbols fall on the reels, the bonus game starts!
The second way to get a bonus game is accumulating of 25 Magic coins.
In this case, the bonus game will consist of 25 free spins and 5 extra spins.
If a player receives a bonus game in the standard way, then he is awarded a payout for Scatter symbols:
- 2 Scatter symbols = x1 from the bet (no bonus game)
- 3 Scatter symbols = x3 from the bet
- 4 Scatter symbols = x25 from the bet
- 5 Scatter symbols = x100 from the bet
In the bonus game mode, all winning combinations are multiplied by 2, and Wild symbols can fall out in stacks on all reels.
If the bonus game starts before 25 coins have been accumulated, then the player is given free spins for already existing Tokens and 5 additional spins. In this case, collected coins are expired.
It should be noted that the bonus game is launched at the average rate of coin accumulation which is displayed on the right side of the slot.
Technical information.
Paylines: 9
Maximum payout per spin: x2400 - all reels occupied by Wild symbols in the bonus game mode with a multiplier x2.
RTP of the slot: 95.29%
Release date: May 17, 2019