Expedition Adventure will have you rolling in cash and sipping on a Bahama Mama!
Monday, September 3rd, 2018 – The mythical city of Atlantis has been talked about for generations – is it real? Is it legend? While we can't answer that question, we can tell you that BitStarz latest promotion is bringing the lost city of the sea to life. Dropping plenty of green into the big blue ocean, Expedition Atlantis serves up a €50,000 individual prize pool, plus the chance to win a luxury trip for two to the Bahamas!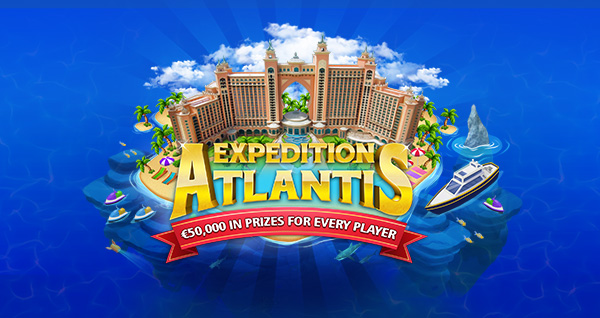 When it comes to online casino promotions, BitStarz is now in a league of its own. Players have been lighting up forums around the world, talking about the once in a lifetime prizes that have been placed up for grabs. Just look at Dream Island Level Up, Treasure Island Adventure, and Journey to Russia, which have shown the world exactly what BitStarz can do. Expedition Atlantis is only cranking the action up a notch, with more thrills, more spills, and an even more spectacular top prize.
Much like some of BitStarz previous promotions, in Expedition Atlantis you are dealing with 40 levels once again. Each and every level is just as loaded as the last, with a €50,000 individual prize pool there for the taking. That's right, every player gets an individual €50,000 prize pool to play for, so no matter your skill level, every player has a chance to grab a piece of the pot.
Expedition Atlantis features plenty of splash and tons of cash, but that's certainly not all. This promotion gives you the chance to live the life of luxury. The first player to reach Level 40 will win a will win a trip for two to the Hotel Atlantis in the Bahamas– the famous luxury resort. All inclusive, all luxury, and all flights included – this is one prize that's truly going to allow you put your feet up and relax.
If you're already a BitStarz member, you're automatically entered into this new promotion. All you need to do is play your favorite games as per usual and start swimming through the 40 levels.
Don't worry if haven't signed-up to BitStarz yet, as the best is yet to come. Register today and you'll be able to enjoy Expedition Atlantis, plus a welcome bonus package worth up to €500 and 20 no deposit free spins!
Enter an underwater world of myth and mystery, as BitStarz is taking you on a journey to Atlantis in more ways than one!
Get