Another Huge Win at BitStarz - Player Wins $350,000!
Friday, February 22nd, 2019 – For the second time this month, a player has scooped up an epic win at BitStarz!
A mere few days after announcing a player had won a cool $65,000 from a single spin on Fantasy Park over at Bitstarz, here we are announcing yet another huge win from the very same casino. This time a lucky player won a massive $350,000 – one of the biggest wins at BitStarz to date. Jade Valley dished out just under half of his winnings from a single spin, while Lightning Roulette topped up the win to become a truly life-changing amount of money.
Wheeling and Reeling in the Big Wins
Jade Valley is one of the hottest slots around in 2019, launching as a BitStarz exclusive slot less than a month ago. You're thrown across the planet into the depths of Asia on a stunning journey that will have you awestruck at the high-quality graphics and animations. Playing over 5 reels and 50 paylines, landing a win in Jade Valley isn't too tricky. After this huge win, we are only going to see this fairytale game become more and more popular amongst players.
Jade Valley wasn't alone in helping this player break records over at BitStarz, it tag-teamed up with Lightning Roulette. Fabled for its massive 500x multipliers, Lightning Roulette is one of the most exciting variants of roulette currently available. Using a clever strategy, this player coerced the lightning gods into striking his numbers multiple times – racking up the cash in the process. On top of this, the player also decided to cashout all his winnings, which BitStarz did within a day!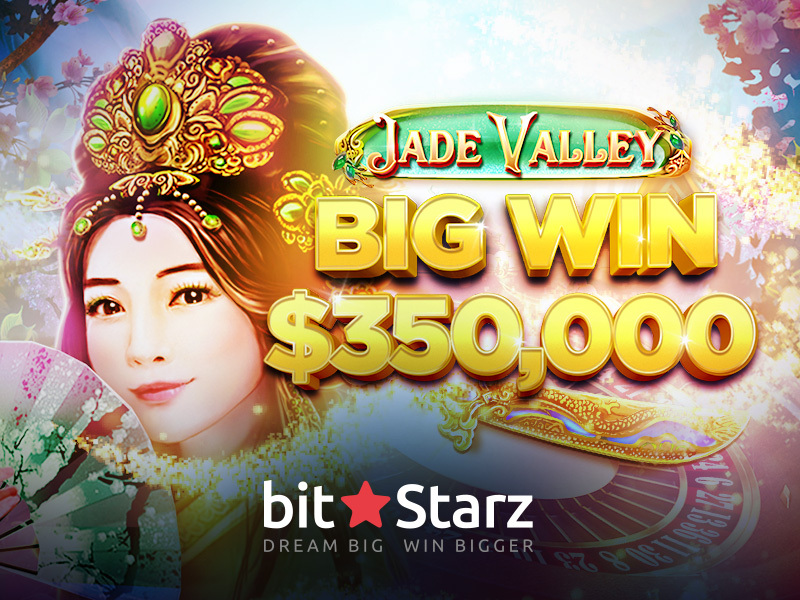 Games and Promotions Galore
Three games at BitStarz are stealing the headlines this month, but these are a far cry from the only games on offer. BitStarz boasts an epic collection of over 2,200 of the latest, best, and hottest casino games around. BitStarz casino will leave you spoilt for choice when it comes to searching for the next game to earn you a mega payday.
On top of this huge selection of games available, BitStarz boasts some of the best customer support around. With live chat crews available to take your queries 24/7 in a number of languages, you're never left in the dark over at BitStarz. As well as some of the best human customer support on the planet, BitStarz also boasts the quickest cashout times around. This lucky winner who bagged himself $350,000 had his cashout completed in under 10 minutes – we dare you to find another casino that is as fast.
Finally, when you register at BitStarz you can then get up to 5 BTC/€500 and 180 free spins across your first 4 deposits – one of the most generous welcome offers around.
Good Things Come in Threes – Will You Be Next?
Speaking on another big win at BitStarz, Srdjan Kapor – BitStarz Marketing Manager – said:
"Nothing brings me more pride and joy than announcing big wins right here at BitStarz Casino. I didn't think I would be announcing another win – or a win so big – so soon, but here we are. One lucky player cleaned out Jade Valley and smashed Lightning Roulette to win himself a $350,000 prize – we want to send him a massive congratulations."
As the reels spin, the big wins just keep on coming. It's time to get your name in the record books and scoop a life-changing sum of money for yourself, so head on over to BitStarz and take full advantage of the luck on offer!
Get bonus